Hey there! Thinking of trading stocks? It can be exciting and profitable, but it can also be confusing for newbies. Don't worry, I got some tips for you to get started!
1. First things first, learn the basics.
Get to know what stocks are, how they're bought and sold, and how they're affected by supply and demand. You can find tons of resources online, so take your time to educate yourself.
2. Next up, make a trading plan
It's a set of rules that you follow when trading stocks. It should include your investment goals, how much risk you're comfortable taking, your preferred trading style, and your exit plan.
3. Start small
Don't go all-in at first, try with a small investment. This way, you can learn from your mistakes without losing a lot of money. As you gain experience and confidence, you can invest more. Just remember, patience is key.
4. Diversify your portfolio
Spread your investments across multiple stocks and industries to minimize your risk. Mutual funds or exchange-traded funds (ETFs) can help you achieve diversification.
5. Keep an eye on your investments
Regular monitoring can help you identify trends and adjust your trading plan accordingly. But don't check too often, or you might overreact to short-term market fluctuations.
6. Be patient
Investing in the stock market is a long-term game, so don't get discouraged by short-term losses or gains. Stick to your plan and focus on your long-term investment goals.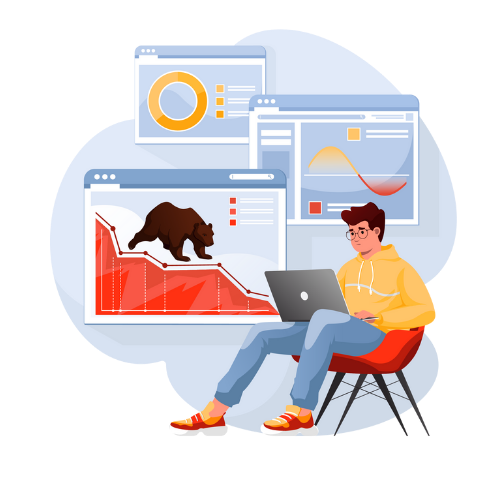 Choose the right brokerage
To trade stocks, you'll need to open a brokerage account. Choose a reputable broker that offers low fees, user-friendly trading platforms, and good customer support. Do your research and compare different brokers before making a decision.
Stick to your strategy
It's important to have a trading strategy and stick to it. Don't make impulsive decisions based on emotions or news headlines. Stick to your trading plan and only make changes if they align with your long-term investment goals.
Practice with a demo account
Before investing real money, consider practicing with a demo account. Many brokers offer demo accounts that allow you to trade with virtual money. This can help you get a feel for the market and test out different strategies without risking any actual funds.
Keep an eye on fees
Trading fees can eat into your profits, so it's important to keep an eye on them. Look for brokers with low fees or commission-free trading. Also, be aware of other fees like account maintenance fees, transfer fees, and withdrawal fees.
Understand the risks
Trading stocks can be risky, and it's important to understand the potential downsides. Stocks can be volatile, and prices can fluctuate rapidly. There's also the risk of losing your entire investment if a company goes bankrupt or the market crashes.
Consider long-term investing
While trading stocks can be exciting, it's important to consider long-term investing as well. By holding onto stocks for several years or even decades, you can benefit from the power of compounding and potentially earn higher returns.
In conclusion, trading and investing in stocks can be a great way to grow your wealth, but it's important to approach it with caution and knowledge. By choosing the right brokerage, sticking to your strategy, practicing with a demo account, monitoring fees, understanding the risks, and considering long-term investing, you can increase your chances of success in the stock market.